Luke Walton Trade for Ramon Sessions Vetoed By David Stern for "Basketball Reasons"
by Dr. Andrew Nguyen D.D.S, Esq., M.D.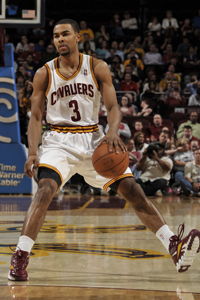 In a move that sadly comes as little surprise given the commissioner's past actions in this controversy-laden, lock-out shortened season, NBA commissioner David Stern has vetoed today's trade that would have sent Luke Walton and a protected first round pick from the Lakers to the Cavaliers in return for veteran point guard Ramon Sessions.
Stern released a statement earlier defending his actions:
In response to the trade that has taken place earlier this morning, I believe that it is within the best interest of the NBA to veto the trade between the Los Angeles Lakers and the Cleveland Cavaliers for basketball reasons.

In order to protect the integrity of young, small market NBA teams, I could not in good conscience allow the struggling Cavaliers to take on the cancerous Luke Walton. It simply wouldn't be fair to the fans of Cleveland who have had a tumultuous past few years.
He continues to defend his actions in his statement, further saying,
In response to criticisms of my Chris Paul trade veto, I feel it necessary to explain my reasoning for this veto. Luke Walton stopped being a basketball player some three years ago. I feel that it would have been unfair to trade Ramon Sessions, a capable young point guard, for Luke Walton, an injury-plagued, I'm gonna say "athlete".

Also to preempt similar criticisms that entailed the Chris Paul trade veto, here are a list of altered scenarios that I would have accepted for Ramon Sessions:

1) Luke Walton, a first round pick, & either Darius Morris or Andrew Goudelock

2) Darius Morris and two 1st round picks

3) Devin Ebanks and two 2nd round picks

4) A sign and Trade of Cherokee Parks and Doug Christie

5) The entire New Jersey Nets

6) The rights to Chinese guard Sun Yue and the rights to Samaki Walker

7) Gary Vitti and a Diet Coke

8) Lisa Leslie of ABC7 Sports Los Angeles

9) A MacBook Air
When reached for comment, Luke Walton was quoted as saying two octaves lower than the human ear can register, "duhhhh…duhhhh…buhhh?"
Throw sheep at Andrew here 
Luke Walton Trade, Ramon Sessions Trade, Lakers Cavaliers Trade, Christian Eyenga Trade, Lakers Trade, Cavaliers Trade Ramon Sessions, Lakers Trade Luke Walton